Waterproof 1.0 mm Plastic HDPE Geo Membrane for Fish Ponds Liner

Agriculture animal lagoon pond liner

High-quality polyethylene geomembranes can greatly improve aquaculture farming production
processes.Dajin's polyethylene geomembranes offer significant operational and cost benefits
over the clay, concrete, and steel in aquaculture applications. They are widely accepted as
cost-effective lining solutions - e.g., p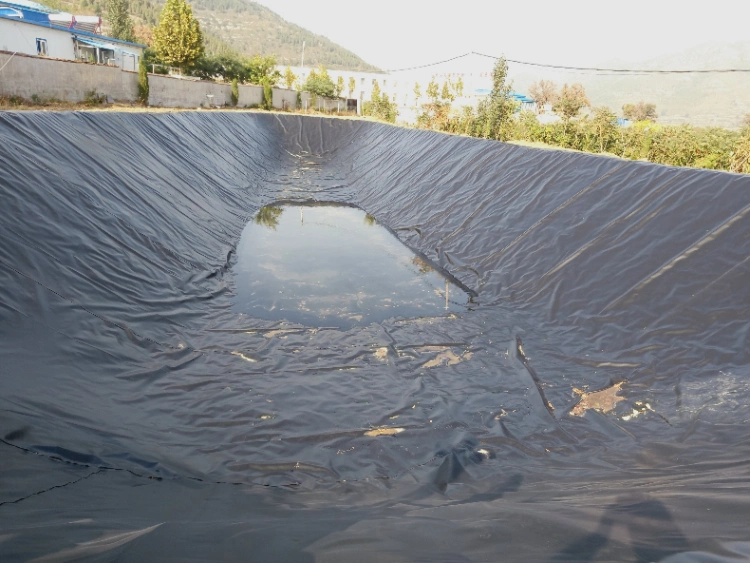 Geomembranes designed for Aquaculture

Geomembranes control the cultured water quality, allowing for higher crop densities, healthier
cropswith greater dissolved oxygen content, and improved feed conversion ratios. Highersurvival
rates and greater outputs improveprofit potential.
Dajin's high-quality, high-density polyethylene (HDPE) geomembranes are high performance
solutionsdesigned for use in aquaculture applications. Our polyethylene geomembranes are
certified for potable water containment. They containno additives
or chemicals thatcould leach out and impact water quality or harm livestock. They are also robust
and reliable.
Dajin geomembranes can be repeatedly cleaned and disinfected with no decrease in the liner's
performance. Made from the highest quality resin recipes, our highly durable geomembranes have
been used successfully all over the world. They have outstanding thermaland dimensional stability
and are highly resistant to UV degradation. Key benefits of using thesehigh-quality geomembranes
include erosion control, disease and microbiological controls, improved crop quality and a reduced
carbon footprint.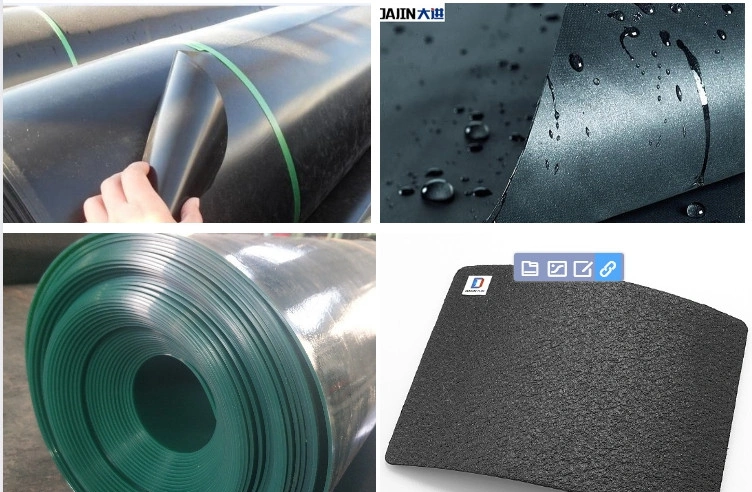 Erosion Control

Our geomembranes offer effective erosion control. The liner eliminates slope deterioration caused by
surface rains,wave action, and wind.The liner prevents eroded materials from filling the pond and
reducing the volume. In addition,costly erosion repair and dredging are eliminated.Dajin's high-quality
HDPE geomembranes offer secure water containment, enhanced quality control, erosion control, and
improved crop quality, and they are kind to the environment.


Geomembrane is very low permeability synthetic membrane liner or barrier used with any geotechnical
engineering related material so as to control fluid (or gas) migration in a human-made project, structure,
or system. Geomembranes are made from relatively thin continuous polymeric sheets, but they can also
be made from the impregnation of geotextiles with asphalt, elastomer or polymer sprays, or as multilayered
bitumen geocomposites. Continuous polymer sheet geomembranes are, by far, the most common

Manufacturing Technique
HDPE Geomembrane liner are made from polyethylene polymer materials by the film-blowing
process.it is most widelyused for solid waste containment (such as landfill liners), mining and
water containment applications.

Item
Product Name:

HDPE Geomembrane

Thickness:

0.2mm-3.0mm(Main:0.5mm, 0.75mm,1.0mm,1.5mm,2.0mm)

Length :

50m/roll,100m/roll,150m/roll or follow your request

width:

1m-8m or follow customers' demand, Main width is 4m,5m,5.8m,6.0m

Surface

Both side smooth/both side textured
one side textured one side smooth, or as your request

Color:

White,Black,Green,Blue,mainly black

Material:

HDPE,LDPE,LLDPE, ( 100% Virgin)

Certification:

ISO9001:2008,

Standard:

ASTM GRI-GM13
Main Features:
1.Waterproof and impermeable
2.UV resistance
3.High tearing resistance
4. Puncture-resisting
5.Nontoxic,non-tasteness. Long life:over 100 years underground without sunlight.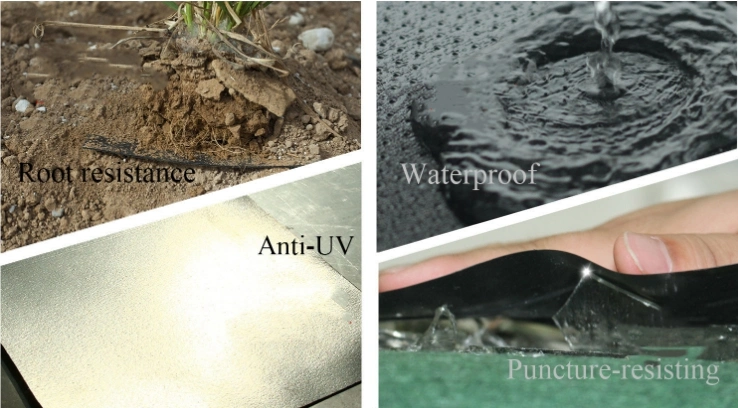 Packaging & Shipping

The geomembrane roll are in the hand sewing woven bag packing, safe and scratch-proof. The
bag color can becustomized, with your own logo.




Application

1.Various waterproof and anti-seepage projects such as landfills, solid waste treatment stations,
tailings storage yards
2.sewage ponds, petrochemicals, construction, water conservancy, mining, landscape gardens,
subway tunnels,aquaculture, livestock biogas digesters, etc.
3.Environmental protection projects:Landfill,sewage treatment plants,power plant regulating pools,
industrial and hospital solid wastes,etc.
4.Mining:heap leaching platforms, conduit and retention channels and wells for liquid solutions,
final disposal reservoirs.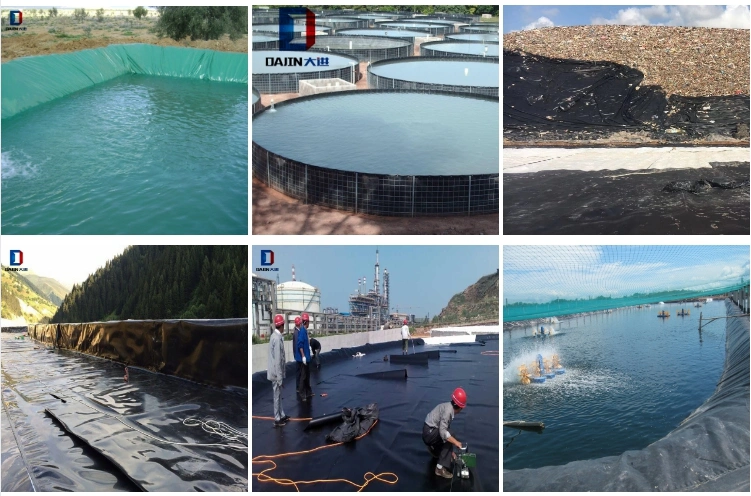 Index
S/N




Item

Index

Thickness mm

0.75

1.00

1.25

1.50

2.00

2.50

3.00

1

Density
g/cm3

≥0.940

2

Tensile yield strength (vertical and horizontal)
N/mm

≥11

≥15

≥18

≥22

≥29

≥37

≥44




3

Tensile breaking strength (vertical and horizontal)
N/mm

≥20

≥27

≥33

≥40

≥53

≥67

≥80

4

Elongation (vertical and horizontal)
%

-

-

-

≥12

5

Elongation at break (vertical and horizontal)
%

≥700

6

Tearing load at right angle (vertical and horizontal) N

≥93

≥125

≥160

≥190

≥250

≥315

≥375

7

Anti-puncture strength
N

≥240

≥320

≥400

≥480

≥540

≥800

≥960

8 '

Tensile load stress cracking (tensile method of dead load of the cut)
h

_

≥300

9

Carbon black content
%

2.0~3.0

10

Carbon black dispersion

The number of Level 3 among 10 data is not more than one; Level 4 and Level 5 are not allowed.

Oxidation induction time (OIT)
min

Oxidation induction time under normal pressure ≥100

11*

Oxidation induction time under disjoining pressure ≥400

12

85°C thermal aging (retention rate of OIT under normal pressure after 90d) %

≥55

13a

Ultraviolet resistance (retention rate of OIT after 1600h ultraviolet irradiation)
%

≥50

Note: Technical performance index of thickness specification not listed in the table shall be implemented according to interpolation method.

For two indexes of Item 11 and Item 13, select one from retention rate of OIT under normal pressure and retention rate of OIT under high pressure and carry out the test.
Related products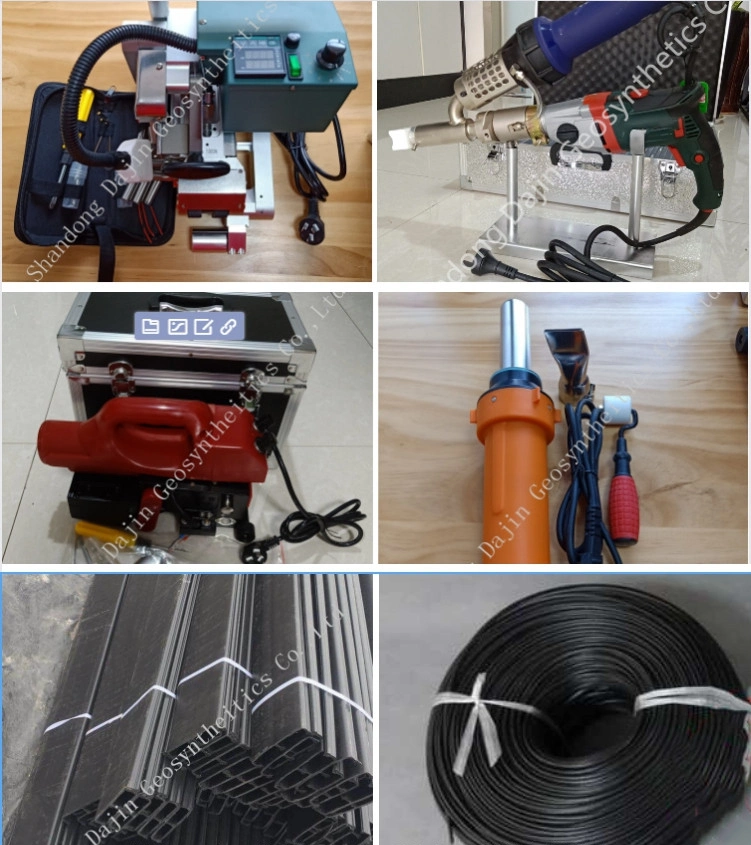 Company introduction

Shandong Dajin Geosynthetics Co.,LTD is a comprehensive geosynthetic service provider
as well as solution providerintegrating Engineering design, manufacturing, installation, guarantee
in Seepage control industry.The products provided by Dajin include geotextile, geomembrane,
composite geomembrane warp-knitted geogrid,glass fiber geogrid, plastic geogrid, steel-plastic
geogrid, mining geogrid, high-strength mining polyester fibermesh,geocell and other geosynthetics.
Our goal is to become a world-class company dedicated to providing our customers with
comprehensive, reliable and high-quality services and solutions. Meeting the needs of people to
increase their quality of life, promoting the smart use of the planet's resources.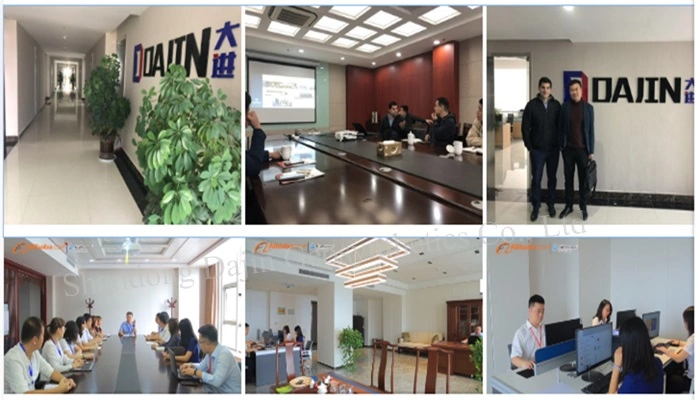 Design

The Dajin engineering team can provide solid advice on all types of Seepage control insustry,
as well as their correct design for projects, including construction details and advice on the
general configuration of the project.




Documentation

Each roll of Dajin geomembrane has its own identification number. The identification number is
traceable in linewith the quality control plan. Dajin can add the necessary documentation or
modify the packing for countriesand territories with special product certification requirements.

Quality plan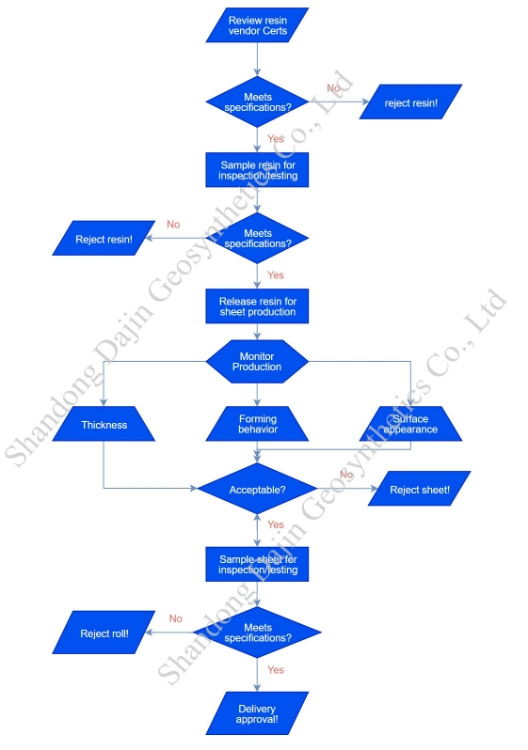 The Dajin quality plan is designed to provide customers with the highest standards of product control
and reduce our product returns rate tozero. The checklist covers a wide range of aspects, from the
quality of the raw material all the way through to the roll labels.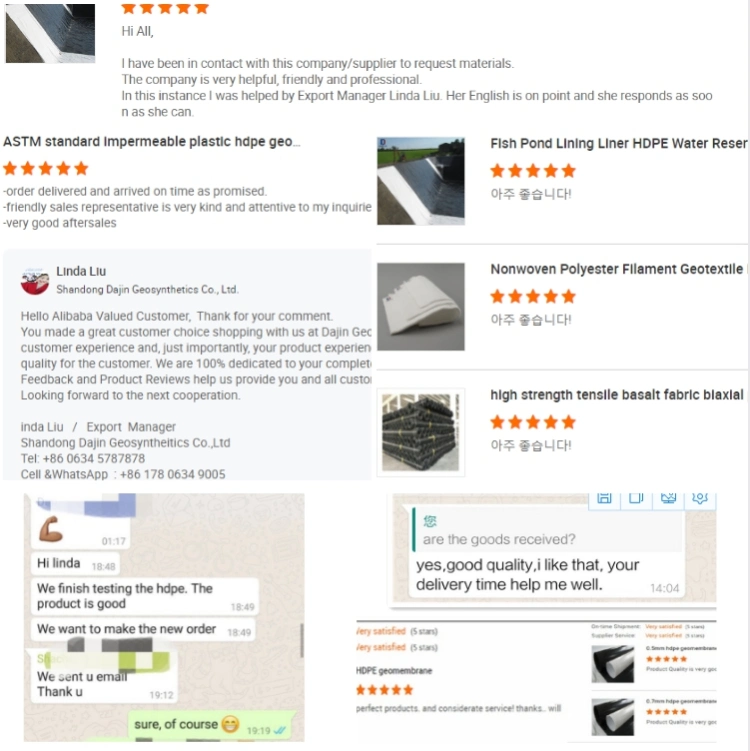 Installation

Upon request by the customer, Dajin can also offer a full turnkey installation service, covering
the materialsmanufactured by Dajin, any other geosynthetics products, installation and all
additional materials required to fully complete the project.We can supply supervisors and
installers, with or without welding equipment, suchas machines and tools, to manage a
group of local staff supplied by the customer. We can also provide training courses to staff
provided by the customer.

Guarantee

Dajin provides a 10-year guarantee on all manufactured geomembranes. Based on our
experience, the useful life ofDajin's high-performance products under almost any normal
conditions of service can be measured in decades and isprobably over 100 years.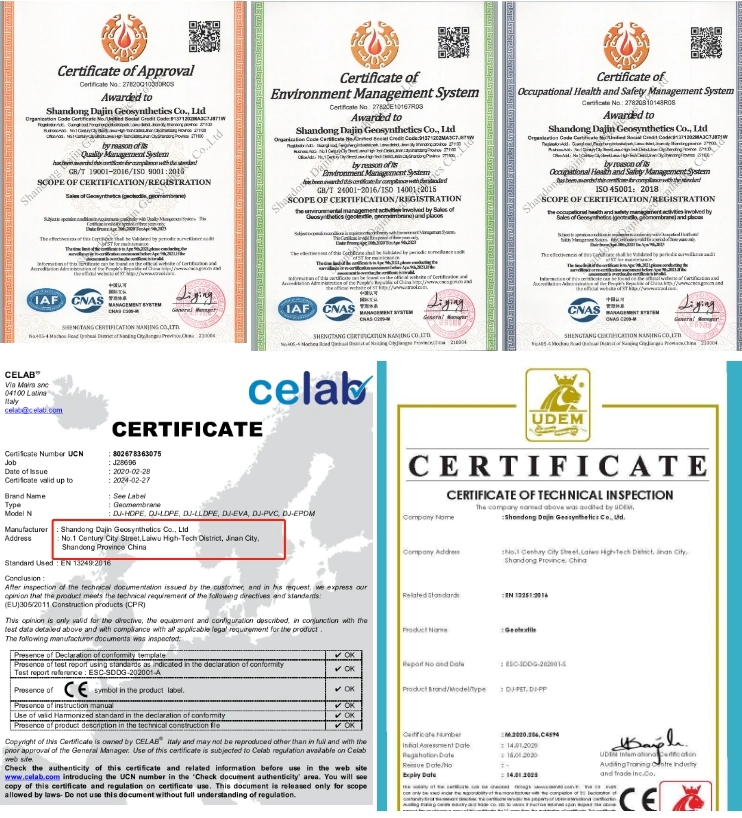 FAQ
Q: Are you trading company or manufacturer ?
We are factory.
Q:Is the quality of your products stable?
The company has a complete QC system, and each batch of products will be sampled and the
sampleswill be kept for 5 years.
Q:Can you do OEM?
Yes, of course. We can produce the products as your request.
Q: Do you provide samples ? is it free ?
Yes, we could offer the sample for free charge but do not pay the cost of freight.
Q: How long is your delivery time?
Generally it is 5-10 days if the goods are in stock. or it is 10-15 days if the goods are not in stock,
it is according to quantity.
Q: What is your terms of payment ?
Payment<=5000USD, 100% in advance. Payment>=5000USD, 30% T/T in advance,balance
before shipment.
If you have another question, please feel free to contact us at any time.