Classification by thickness
Ultra-thin and regular thick for choose.
Main materials structure
Ultra-thin size :(Non-woven or perforated film top sheet + air laid paper+ PE film +release paper.)
Regular thick size :( Non-woven or perforated film top sheet + SAP +Pulp+ PE film +release paper.)
Various length : 150mm-160mm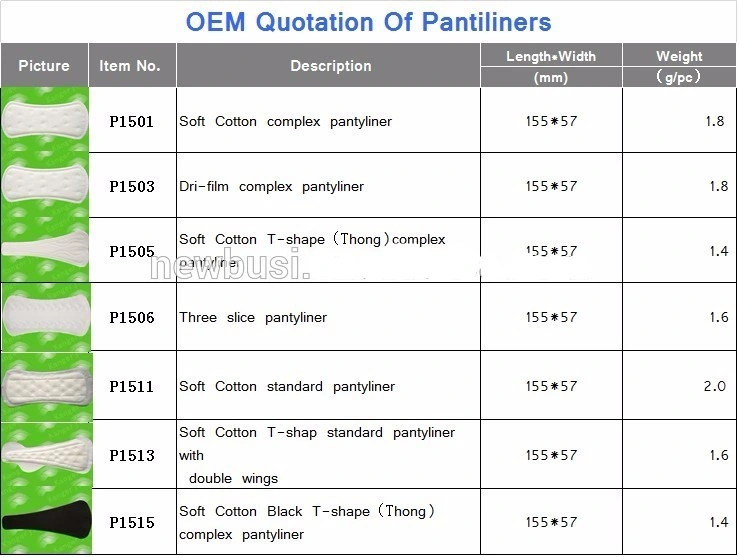 Top surface
Soft cotton surface, gentle feather feeling ,make the skin feel more comfortable and let lady
enjoy the menstrual meticulous care;
Smooth silk-likely mesh surface gives skin soft and fresh feeling ,keep skin dry and comfortable persistently
Super absorbent core --made by SUMITOMO from Japan and fluff pulp from USA
Super absorbent polymer is applied to absorb liquid instantly, and the large liquid retention
amount of the inner layer can lock moisture firmly and effectively without backward leakage
Blue chips
The blue core layer strengthen the permeation and fast diffusion ,lock and focus flow in middle, Improve the hygiene
Condition,remove peculiar smell,help the liquid absorbe quickly,make surface clean and dry.
Herbal and perfume
Efficacy of Aloe Vera : Bacteriostatic action, preventing growth of pathogens.
Efficacy of Lavender: Elegant aroma, preventing vaginal thrush and etc.
Efficacy of Motherwort: Improve blood circulation, ease dysmenorrhea, alleviate itchiness
Features
This liner with ultra soft surface is comfortable and barely noticeable when worn. With it, you are free to wear your favourite fitted pants.
2.Infiltration holes in the surface helps the liner absorb fast.
Airlaid paper absorbs menses and discharge, getting you covered during in-between-period and light-flow days.
3.Excellent Adhesive
Quality hot-melt adhesive stripes prevent the liner from moving.
4.Healthy and reliability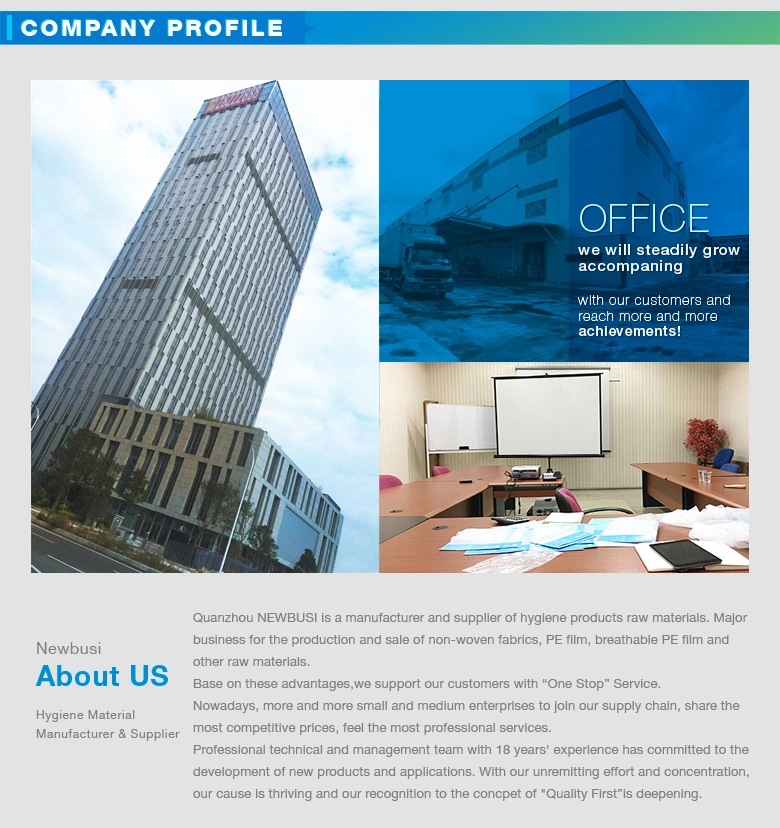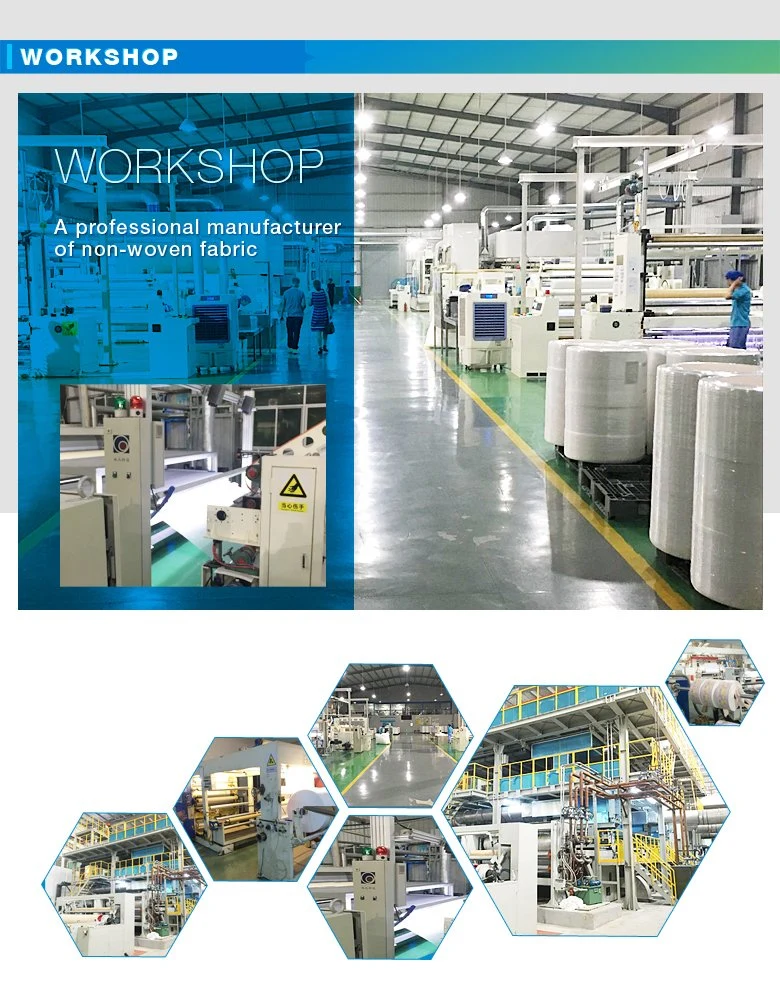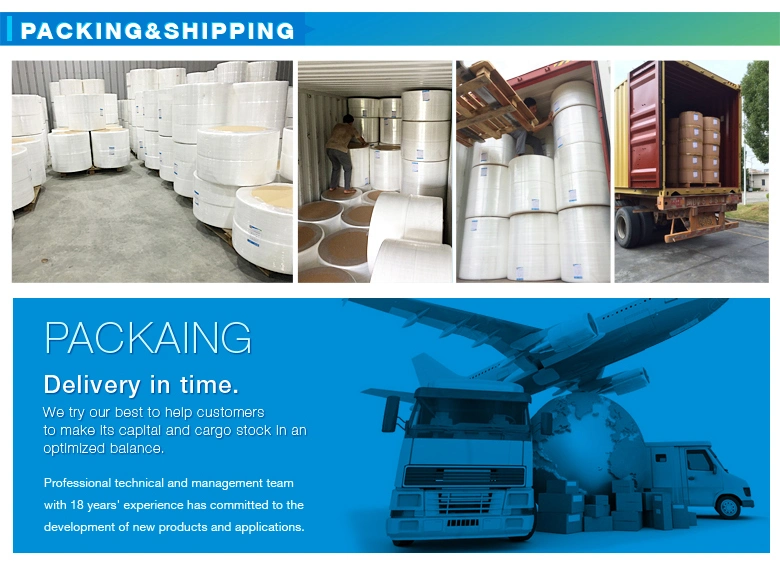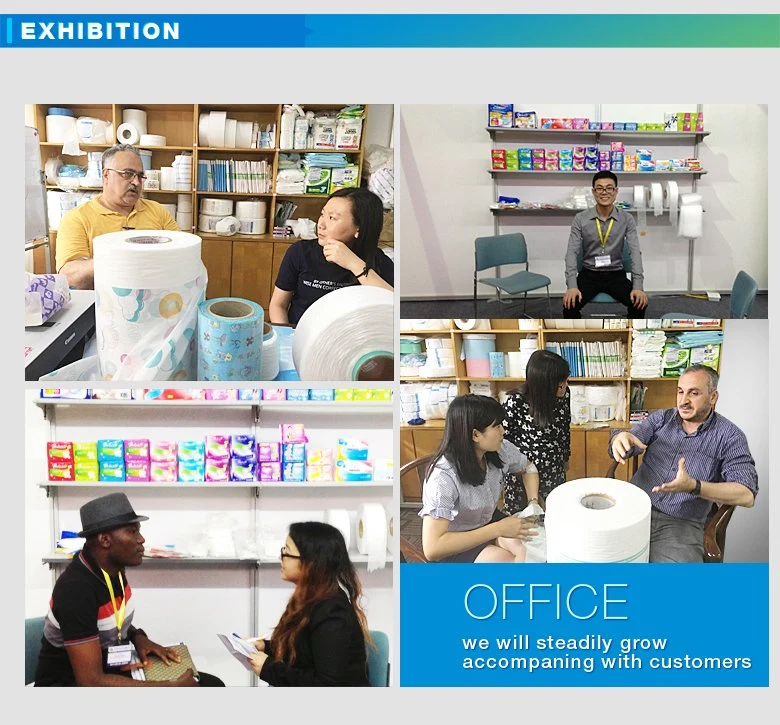 FAQ
1. What is your delivery date ?
A: The delivery date is 7-15 days after packing designs approved, and receipt of payment.

2. What is your first order payment terms ?
A: 30% deposit in advance and 70% balance before shipment.

3. Can you send us samples of diaper raw material ?
A: Yes, free samples can be sent out, you just need to pay the express fee.
(1). You can provide your a/c like DHL or FEDEX or TNT
(2). You can call your courier to pick up at our office.
(3). You can pay us the express charge by western union or T/T.

4. Where is your factory located?How can I visit it
A:Our factory is based in Quanzhou city,Fujian province,China
You can fly to Jinjiang air port,we will pick you up.