hdpe ldpe lldpe pvc eva geomembrane liner pond liner for landfill dam on sale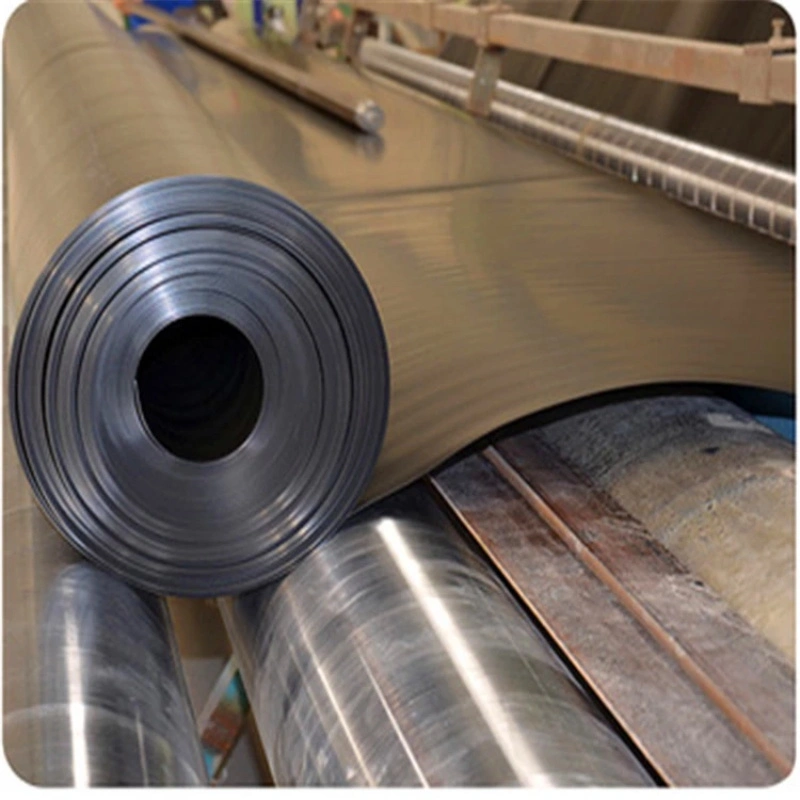 Product survey
1,

Tianhai flat smooth HDPE sheet

is produced from

high-grade polyethylene

resin produced by foreign and domestic large petrochemical enterprises

by three-layer pressing and plastic formation technology and double layer pressing and rolling technology.
2,The company is the only enterprise that uses the two technologies to produce geomembrane in the same industry.
3,The company has plastic formation

experience for more than fifteen years

, makes close cooperation with earthwork builder, makes continuous innovation, seeks perfection, and makes great efforts in providing the most reliable products to the customers.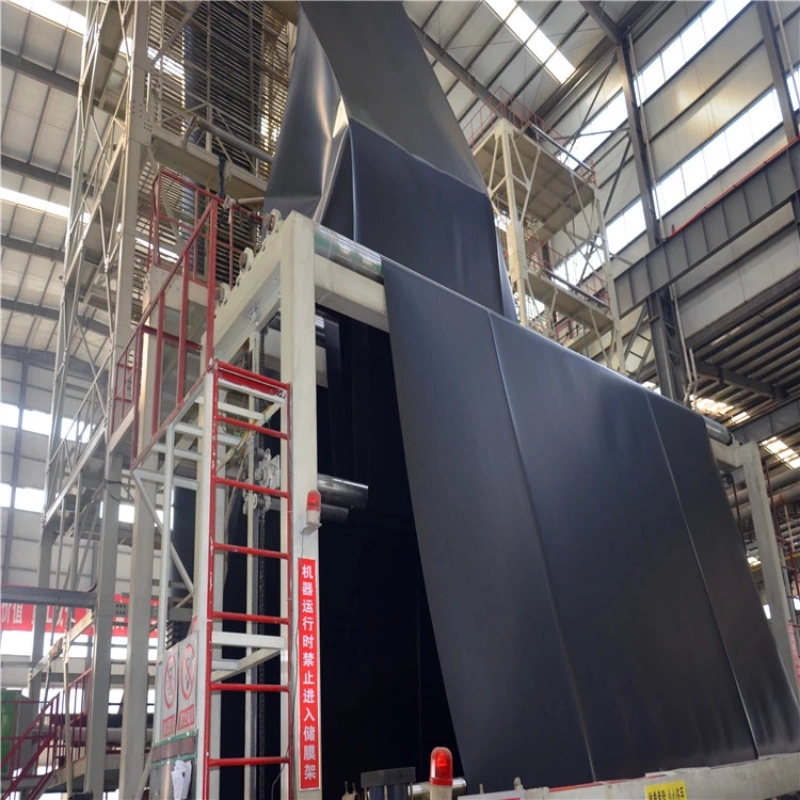 Performance feature
1,

Good physical and mechanic performance, high tearing resistance, strong deformation adaptability, puncture, aging, ultraviolet radiation, oil and salt, alkali and corrosion resistance,
2, high and low temperature resistance, non-toxicity, long operational lift, good waterproof, drainage, anti-seepage and damp proof effects,
3,complete width and thickness specifications, low cost and simple construction.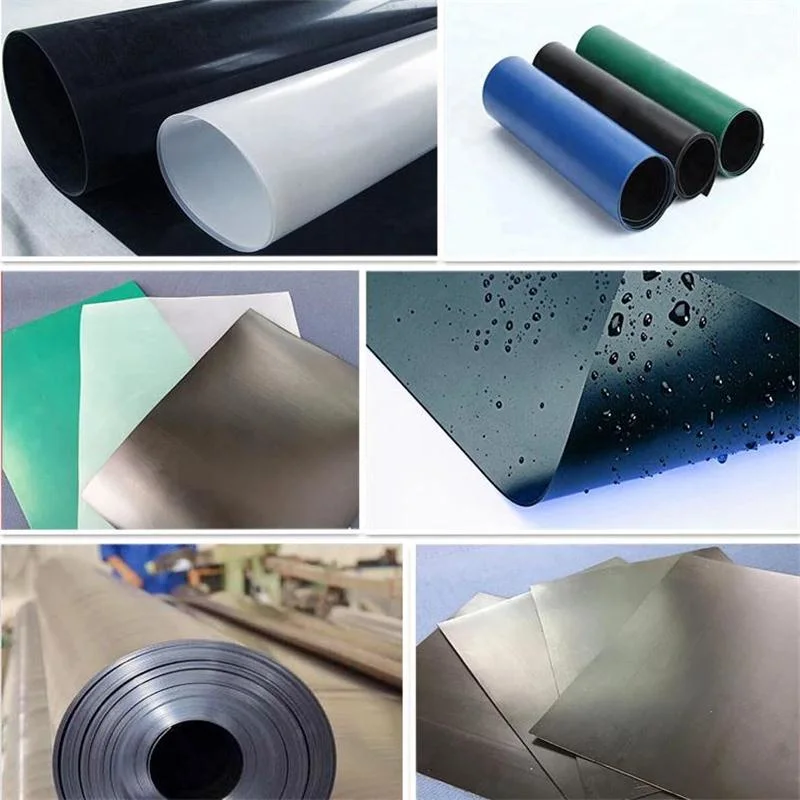 1. Environmental protection and environmental sanitation
(for example, living landfill yard, sewage treatment plant, power plant adjusting tank, industrial and hospital solid waste, etc.).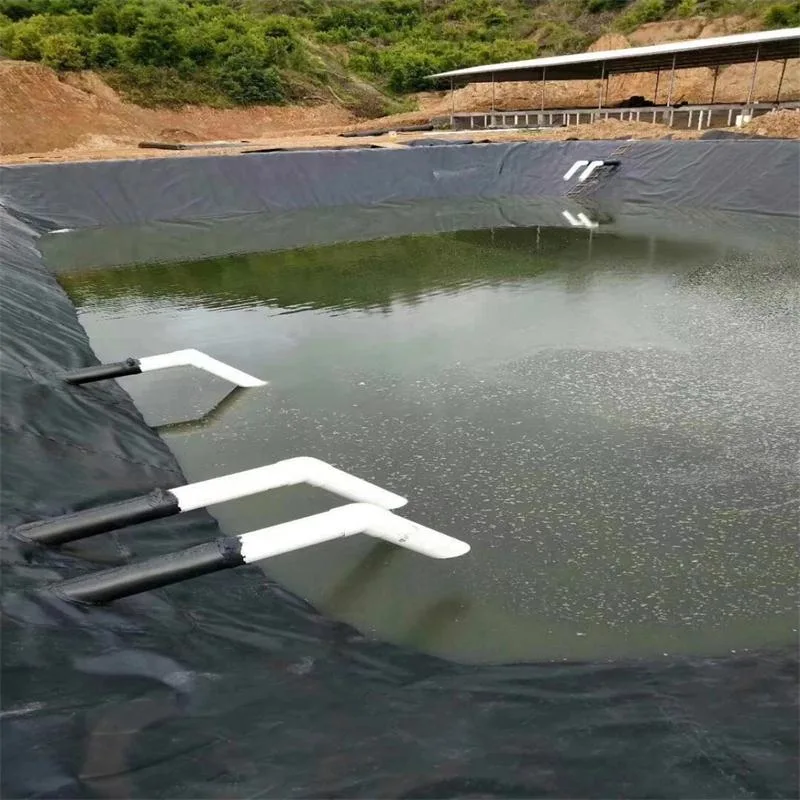 2. Water conservancy
(for example, anti-seepage, leakage blockage and reinforcement of river, lake and reservoir dikes and banks, anti-seepage of canal, vertical central wall, side slope, etc.).
3. Municipal projects
(underground project of subway and structure, anti-seepage of plantation roof and roof garden, lining of sewage pipe, etc.).
4. Landscape garden
(man-made lake, river way, cistern, bottom lining and side slope of pool in golf course, waterproof and anti-seepage of greening lawn, etc.).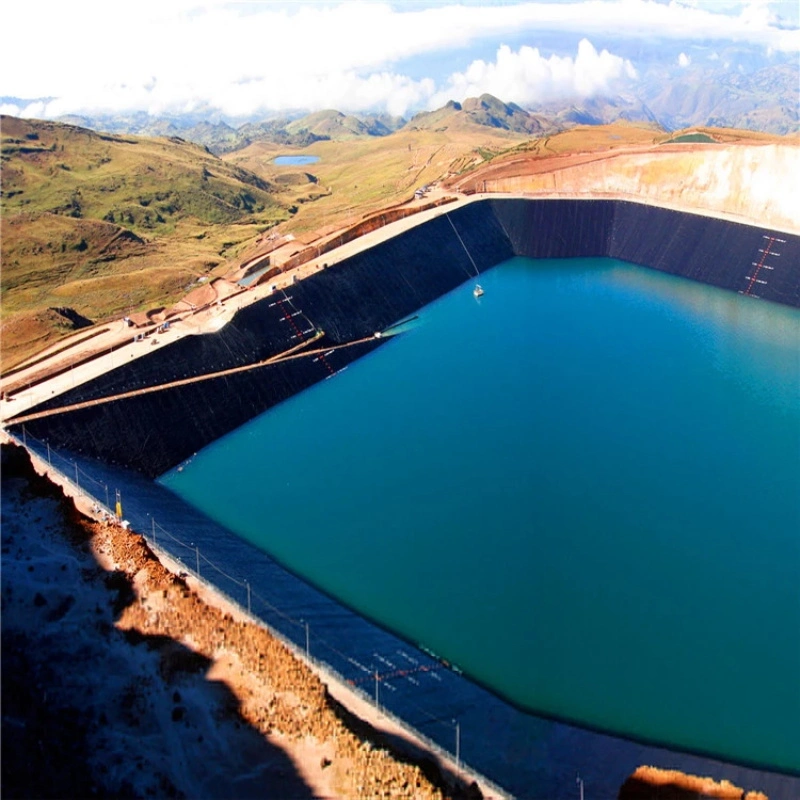 5. Petrochemical industry
(anti-seepage of oil tank of chemical plant, oil refinery and filling station, lining of chemical reaction tank and sedimentation tank, etc.).
6. Mine industry
(bottom lining and anti-seepage of washing and selecting tank, piling and soaking tank, ash yard, dissolution tank, pile yard and tailing, etc.).
7. Traffic facilities
(reinforcement of road foundation and anti-seepage of subway and culvert).
8. Agriculture
(anti-seepage of ditch, channel, reservoir, drinking water tank, pool and irrigation system).
9. Aquiculture industry
(lining of intensive and plant type cultivation tank, fish pound and shrimp pool, side slope of sea cucumber ring, etc.).
10. Salt industry
(crystal tank of salt field, tarpaulin cover of halogenation tank, salt film, plastic tarpaulin cover of salt tank).
HDPE glossy geomembrane is one double-surface membrane with flat and smooth appearance made from virgin resin with special formula.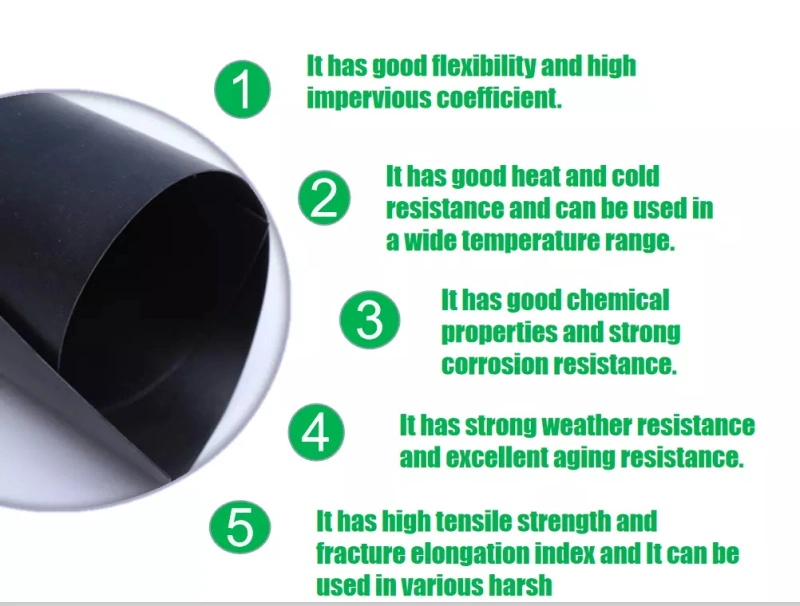 The Specification of HDPE geomembrane
Thickness

0.12mm-4.0mm

Length

50m/roll,100m/roll,150m/roll or as your choice

Width

2.0m-8.0m or as your choice

Color

White/Black/Blue/Green, mainly black

Material

HDPE

Delivery port

Qingdao

Package:

woven bag or as customers' requests

Product time

2-20 days

Features

1.Good physical and mechanic performance

2.High tearing resistance, strong deformation adaptability

3.Puncture-resisting, aging resisting, ultra-violet radiation, oil and salt, and corrosion resistance

4.Good adaptability to high and low temperature, non-toxicity, long service life

5.Good waterproof, drainage, anti-seepage and damp proof effects

6.Complete width and thickness specifications, low cost and easy installation.

Note

We can do as your demand,please feel free to contact us for more
information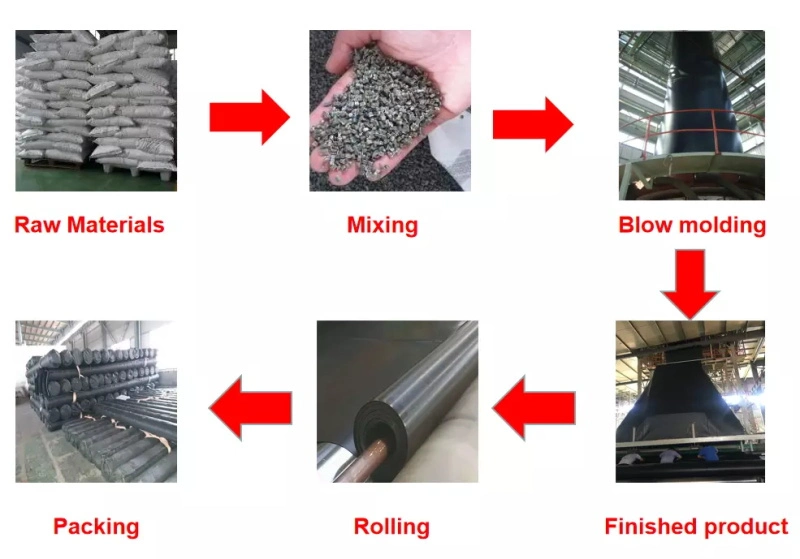 The Technical of HDPE geomembrane
HDPE geomembrane technical index of ASTM test GM 13 standard
No.

Item

Test Value

0.75mm

1.0 mm

1.25 mm

1.5 mm

2.0 mm

2.5 mm

3.0mm

1

Minimum Density(g/cm³)

0.939

2




Tensile Property

Strength at yield,N/mm

11

15

18

22

29

37

44

Strength at break ,N/mm

20

27

33

40

53

67

80

Elongation at yield,%

12

Elongation at break,%

700

3

Tear Resistance N

93

125

156

187

249

311

374

4

Puncture Resistance N

240

320

400

480

640

800

960

5

Stress Crack Resistance, hrs

300

6

Carbon Black Content, %

2.0-3.0

Carbon Black Dispersion

1 or 2

7

Standard OTI Min

100

High Pressure OTI Min

400

8

Impact Cold Crack at -70°C

Pass

9

Water vapor permeability




(g.cm/cm2 .s.Pa)

≤1.0×10-13

10

Dimensional Stability (%)

±2
Part Five:
Packing &Shipping




woven bag or as customers' requests
Shipping:
7 days after receive the advance payment
Certification






Our products are well sold to various regions in China, and are exported to South Africa, Algeria, Russia, Australia and Israel.
Our company has passed ISO9001:2000 International Quality System Certification, ISO14001:2004 Environment Management System Certification and GB/T28001:2001 Vocational Health and Safety System Certification.
Besides, our company has successfully passed on-site check on production license, and has gained "National Industrial Product Production License" and water-proof qualification.
We have been the member of Chinese Technical Association on Geosynthetics and have been recognized as a "Provincial-level Enterprise Abiding by The Contract, Keeping Promise" for several successive years.
Besides, we were awarded with the titles of "One of Top 10 Famous Brands with Recognized Quality Assurance Standards in China's Plastic Products Industry", "Well-Known Products in China" and "One of Top 10 Enterprises among China's Composite Geomembrane Industry".
We have obtained self-supporting import and export rights.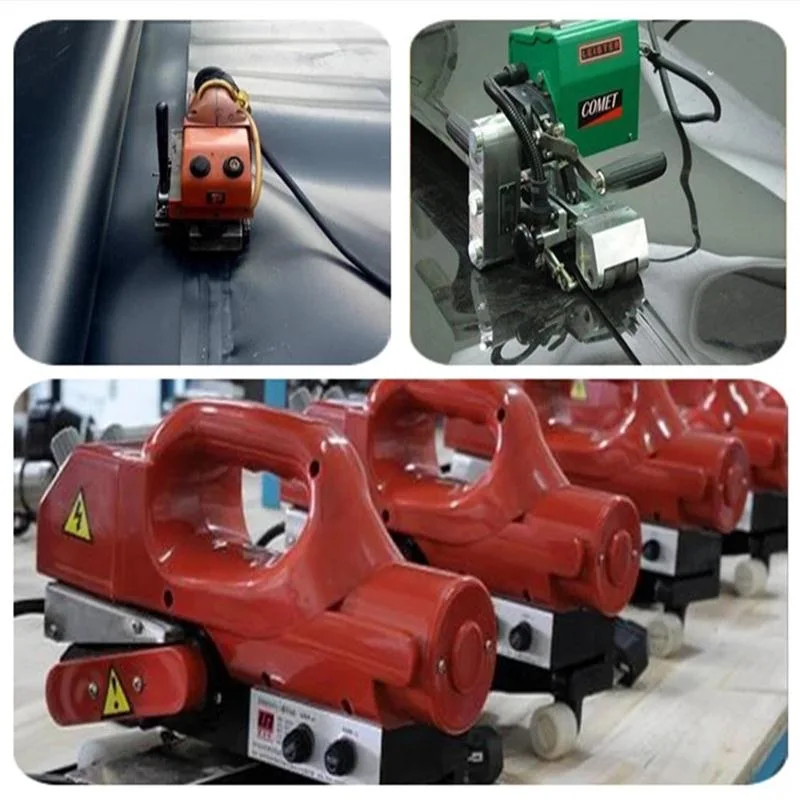 FAQ
1. Q: What's about your production capacity?
A: We produce 10 x 40ft container per day for our product.
2. Q: How about your delivery time?
A: Within 7-14 days after deposit, we always deliver the goods according to customer's requirement.
3. Q: What's about the minimum order quantity?
A: The MOQ is 5000m2, customer can mix different sizes in one 20GP. We suggest at least 20GP,as by our exporting experience, 20GP container sea freight is more economic.
4. Q: How about quality guarantee of your product?
A:1) Material Purchase Control. Our Material are imported from Saudi Arabia. Those country specializing in better raw material.
2) Advanced production equipment, producing ASTM specification data.
4)We could provide you TRI or BTTG test report if you need.
5. Q: Do you have stock?
A: All geomembrane we send to customers are new product. We don't have any stock to ensure customers use best new product and new patterns.
6. Q: Terms of payment
A: 1). First time cooperation, we can accept 30% TT deposit, the balance should be paid against copy of B/L within 10 days.
2). By irrevocable LC at sight.
7. Q: What certificates do you have?
A: CE, ISO, SGS, TRI, BTTG, MSDS
Website: http://sdtianhai.en.made-in-china.com