WAS-RFA
Medium wall woven material wraparound sleeve with an aluminium liner and
adhesive coating
WAS-RFA is a fibre-reinforced, aluminum barrier and hot melt adhesive composite wraparound sleeve. It can
provide fast and reliable repair of polymeric or lead cable sheath, cable outer sheath replacement sealing,
corrosion protection cover.

Feature
•
Convenience and easy for installation, and the outer surface is treated with a temperature sensitive
indicating system to facilitate uniform heating during installation.
•
Suitable for a wide range of cable size.
•
Suitable temperature range from -40 ºC to +120 ºC.
•
Material System : Crosslinked Polyolefin
•
Power Cable Wrap Technology:
Heat Shrink
•
Adhesive Coating:
Yes
•
Mechanical Reinforcement:
General purpose
•
Power Cable Wrap Shrink Ratio:
>3:1
•
Component Design:
Heat Shrink
•
Coating Style:
Inline
•
Application Diameter (Max): 240mm
Selection guide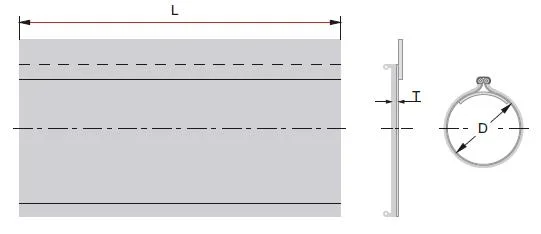 Dimensions:
D: Diameter
Da: Diameter as supplied
Db: Diameter after free recovery
T: Wall thickness
Ta: Wall thickness as supplied
Tb: Wall thickness after free recovery
L: Length as supplied
Type

Application diameter (mm)

D (mm)

T (mm)

L (mm)

D

a

min.

D

b

max.

T

a

min.

T

b

min.

WAS-RFA 43/8

8~43

53

8

1.05

3.5

1500

,

1000

,

750

,

500

,

250

WAS-RFA 55/12

12~55

66

12

1.05

3.5

1500

,

1000

,

750

,

500

,

250

WAS-RFA 75/15

15~75

84

15

1.05

3.5

1500

,

1000

,

750

,

500

,

250

WAS-RFA 84/20

20~84

92

20

1.05

3.5

1500

,

1000

,

750

,

500

,

250

WAS-RFA 100/25

25~100

115

25

1.05

3.5

1500

,

1000

,

750

,

500

,

250

WAS-RFA 125/30

30~125

136

30

1.05

3.5

1500

,

1000

,

750

,

500

,

250

WAS-RFA 146/38

38~146

162

38

1.05

3.5

1500

,

1000

,

750

,

500

,

250

WAS-RFA 164/42

42~164

176

42

1.05

3.5

1500

,

1000

,

750

,

500

,

250

WAS-RFA 200/50

50~200

216

50

1.05

3.5

1500

,

1000

,

750

,

500

,

250